The Grey Muzzle Organization provides funding for senior dog programs nationwide. Here you'll find a list of the organizations that have received Grey Muzzle funding. Please contact these organizations if you are considering adopting a senior dog, fostering, or volunteering.
Grey Muzzle Grant Recipients
Grant recipients include:
Kimmy
Funded from 2010 to 2013
How we help
Quad City Animal Welfare Center received a grant for their Senior for Senior adoption program.
The mission of the Quad City Animal Welfare Center is to offer a shelter for homeless animals, to offer a low cost spay and neuter program and provide humane education.
Learn more about Quad City Animal Welfare Center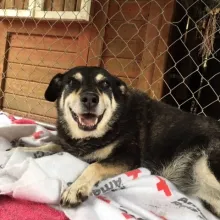 Elsie
Funded from 2014 to 2016, 2018 and 2019
How we help
The Grey Muzzle grant for Rainbow Friends Animal Sanctuary (RFAS) will support their existing program of providing dental/medical and rehabilitation care to senior dogs currently housed at the sanctuary, in foster care, and future intakes. The funding will also provide medical treatment for older dogs that remain with their low-income owners, with the owners able to come to RFAS for help when their dogs are sick or injured or experience additional hardship, such as the lava flows of 2018. Support from Grey Muzzle allows RFAS to care for dogs like Elsie. A ten-year-old terrier mix, Elsie is one of the residents at Rainbow Friends. She was adopted many years ago but returned two years ago when her people moved off island. In the past several days, she suddenly experienced a bulging disk and is unable to use her rear legs. She has been to the vet and is now on several expensive medications. Time will tell if she will be able to walk again, but in the meantime, she has the TLC of RFAS staff and volunteers.
Rainbow Friends Animal Sanctuary provides a no kill/animals alive option to Hawaii County residents. They are home to 400 cats and 65 dogs at any one time. They assist in alleviating the animal abandonment and overpopulation issues facing the island, as well as promoting the social, emotional and health benefits of animal companionship. Their services include educating the public on responsible pet ownership, spay/neuter clinics, rescuing, fostering, provision of food, medical care and safe sheltering of these animals until they can be permanently placed into caring and responsible homes. Some special cases allow them to live out their lives at the Sanctuary or foster locations or return them to their companions. Their mantra is People Helping Animals - Animals Helping People. 
Learn more about Rainbow Friends Animal Sanctuary
Buttons
Funded from 2016 to 2017 and 2019 to 2020
How we help
The Grey Muzzle Organization grant will provide the Ramapo Bergen Animal Refuge, Inc. (RBARI) the opportunity to initiate a new program to provide medical care to senior pit bulls in low-income, inner city areas.   This innovative project targets three areas of need that RBARI focuses on – age, breed and socio-economic status - and earmarks medical funding specifically for a partnership with Jersey Pits rescue to assist senior pit bulls within the Paterson, NJ community.   As seen time and again, these dogs suffer immeasurable abuse and neglect. To help save lives, provide medical care, educate, network and make a difference for these vulnerable animals, RBARI and Jersey Pits work together to tackle the overwhelming volume of need in the community.
The program will help dogs like Buttons.   With limited eyesight and hearing, this emaciated senior pit bull was left to roam off a major highway, alone and confused.  RBARI joined with their partners at Jersey Pits rescue and secured a hospice foster for sweet Buttons, where he received all the love and care he so deserved – despite having lymes disease, arthritis, kidney value elevations, prostate issues and a heart murmur.   Buttons passed a few short weeks after finding his happily-ever-after and left everyone heartbroken, but without this collaboration, he never would have known love and comfort in his last days. 
Operating as the leading no-kill animal shelter in Northern New Jersey, Ramapo-Bergen Animal Refuge, Inc. (RBARI) is a 501(c)3 nonprofit serving all of Northern New Jersey.  RBARI is founded on the belief that all animals have a natural right to humane treatment including proper care and safe shelter. RBARI relies solely on independent giving, receiving no local, state or federal funding. Known for their extraordinary rescue work, RBARI aims to help those dogs and cats most in need, while making a lasting impact on the community around them.  
Learn more about Ramapo-Bergen Animal Refuge, Inc.
Ziggy
Funded in 2021
How we help
The Grey Muzzle grant will help Rancho Coastal Humane Society (RCHS) boost awareness of  adoptable senior dogs. Funds will be used to feature adoptable senior dogs in a series of sponsored advertisements in Ranch & Coast Magazine, a local publication with a large pet-loving audience. The "Adoptable Senior Spotlight – Celebrating the Benefits of a Senior Dog" will  promote a senior dog each month and highlight the benefits of adopting a senior pet. It will help dogs like Ziggy, an 8-year-old hound mix who has been with Rancho Coastal Humane Society since November 2020. It's Ziggy's turn to be adopted! If he's not by the time of the first ad, he will be the first to be featured.
Rancho Coastal Humane Society (RCHS) is dedicated to saving the lives of abandoned companion animals, promoting adoption into loving homes, and offering education programs and support services that inspire and strengthen the human-animal bond. Serving the San Diego County community since 1960, RCHS finds new homes for approximately 1,000 abandoned companion dogs, cats and rabbits each year. The majority of these animals come from shelters throughout the region that are struggling with overcrowding and high euthanasia rates. Bringing these animals to RCHS gives them a second chance. RCHS also is recognized for programs that strengthen the human-animal bond, including the Animal Safehouse Program for victims of domestic violence, seniors, and military veterans; Animal Camps for kids; and the Community Pet Food Bank.
Learn more about Rancho Coastal Humane Society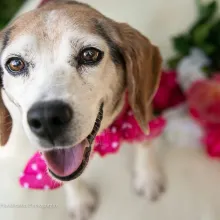 Funded in 2016 and 2018 to 2020
How we help
Richmond Animal League (RAL)'s Grey Muzzle grant will be used to provide a more extensive "Senior Screening," including a CBC, general health profile, urinalysis, and thyroid test and preventative care package aimed at identifying senior pet needs and reducing apprehension about adopting a senior dog. As a result, it will decrease senior dogs' length of stay to less than 30 days while continuing to increase the number senior dogs rescued each year.
Richmond Animal League (RAL) is Richmond, Virginia's oldest nonprofit, no-kill organization, committed to saving lives by providing hope, help and homes for animals in need. Founded in 1979, RAL's main goal is to reduce euthanasia rates in Central Virginia by transporting pets from partnering animal control agencies. RAL provides temporary housing, medical treatment, sterilization, and quality care to over 2,000 companion animals each year until they are adopted into permanent loving homes. Richmond Animal League also provides low-cost spay and neuter services at the Loving Spay & Neuter Clinic to pet owners throughout the state.
Learn more about Richmond Animal League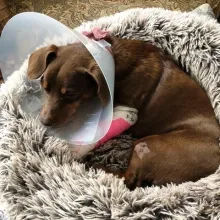 Daisy
Funded in 2021
How we help
Rochester Hope for Pets will use the Grey Muzzle Grant to help pay veterinary costs for senior dogs. The grant will help dogs like Daisy who needed surgery to remove a large, complicated tumor on the front of her left leg. Sadly, Daisy's family had been out of work due to Covid-19 and was unable to cover the full cost of her care. Rochester Pets for Help provided financial assistance so that Daisy could have surgery. She is recovering beautifully with her loving family.  
Located in Rochester, NY, Rochester Hope for Pets' mission is threefold: improving the quality of life for companion animals by providing grants for veterinary care to pet parents who are experiencing financial hardship; supporting continuing education, research and new technology for the advancement of companion animal care; and providing support to nonprofit organizations dedicated to helping homeless animals. Since its founding in December 2008, Rochester Hope for Pets has made more than 2,000 awards to pet owners and rescue groups for veterinary care costs at more than 60 hospitals in Monroe and surrounding counties. Rochester Hope for Pets also supports continuing education through Duncan's Center for Veterinary Education, which is the only non-university-affiliated continuing education center in New York State, and offers continuing education seminars for veterinary professionals sponsored by local and regional organizations. 
Learn more about Rochester Hope for Pets
Horton
Funded in 2018
How we help
The Grey Muzzle grant will allow Rosie's Southside Animal Shelter to increase the number of senior dogs we are able to accept into their Silver Tails program. This program was developed to enable them transfer senior dogs surrendered to Indianapolis Animal Care Services into their care. These dogs typically come to them needing varying amounts of medical care. The grant will enable them to provide the medical care needed to prepare them for their forever homes. In cases requiring forever foster/hospice homes, this grant will assist Rosie's in providing life-long care.
The mission of Rosie's Southside Animal Shelter is to rescue dogs and cats and nurture and restore them to happy, healthy lives in loving homes. Approximately 1800 dogs and cats are adopted from their shelter every year. They work closely with their local animal control facility (Indianapolis Animal Care Services) and have transferred 11,000 animals from their overcrowded shelter to Rosie's Southside Animal Shelter since 2009. Their director visits animal control several times each week and has a reputation for being willing to accept medically urgent and senior animals in need. 
Learn more about Rosie's Southside Animal Shelter
Rashka
Funded from 2020 to 2022
How we help
A Grey Muzzle grant will support the Sacramento SPCA's Pawspice program, which helps dogs who have received a terminal diagnosis but still have a good quality of life. By covering the cost of palliative care, the Sacramento SPCA is able to find homes for senior dogs who may not otherwise have been adopted, dogs just like Rashka. Rashka has a terminal mass near his heart and lungs that is being monitored and managed. With the help of Grey Muzzle, he will receive regular exams and medication to maintain his quality of life. Rashka—and many other senior dogs like him—will enjoy their golden years in the loving care of a forever family.
The mission of the Sacramento SPCA is to foster a loving and compassionate community for companion animals and people by providing assistance, creating lifelong relationships, and saving lives. Since 1892, the Sacramento SPCA has worked to reduce pet overpopulation through affordable spay/neuter services, promote the humane treatment of animals through education and outreach, and assist pet owners through a variety of programs and services designed to keep pets and their families together for life.
Learn more about Sacramento SPCA
Buddy
Funded in 2014, 2015 and 2020 to 2022
How we help
A Grey Muzzle grant will provide dental care for senior Labs.  Dental issues in senior dogs are often not addressed and, if left untreated, can adversely affect other parts of the body such as the liver and kidneys. Dental issues can also be very painful, making it hard for senior dogs to eat and affecting their quality of life. This grant will help dogs like Buddy who got the dental care he needed and hit the jackpot when he was adopted by a Safer Harbor board member! 
Celebrating 20 years in 2022, Safe Harbor Lab Rescue has rescued and rehomed over 4,400 Labrador retrievers since its founding. Each rescued dog receives a physical exam by a veterinarian, vaccinations, a microchip, and a heartworm test. Many of the dogs receive extraordinary medical care as a result of their initial exam, which is the biggest expense for the all-volunteer group. Safe Harbor Lab Rescue is a foster-based organization, which allows them to get to know each dog and match them with the perfect family.
Learn more about Safe Harbor Lab Rescue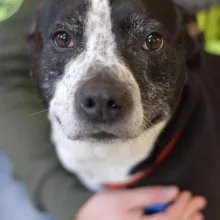 Zeek
Funded in 2018
How we help
The Grey Muzzle grant will enable Safe Haven to provide more extensive medical testing and care to their senior dogs, including senior blood panels. Funding will also be used to support their S.O.S. program which helps families on fixed incomes who could otherwise not afford the medical expenses of a dog they wish to adopt. By helping cover medical expenses, they  enable retirees and others to adopt a senior dog, which in turn provides space for another dog in need of care.
The mission of Safe Haven is to rescue, protect, rehabilitate and find good homes for homeless dogs and cats in Iowa County. They assist individuals who find themselves no longer able to properly care for their furry family members either by rehoming, if requested to do so, or providing food or medical care. They strive to significantly reduce the number of stray dogs and cats and improve the lives of humans and pets through public education and low/no-cost spay and neuter programs.     
Learn more about Safe Haven of Iowa County
Results Paging Controls