This page is dedicated to the Grey Muzzle Always In My Heart campaign donors. During the year, our supporters celebrate the pets they have cherished by making a special "in memory of" donation to the Always In My Heart campaign.  A gift of $30 or more supports senior dogs nationwide who have become homeless when they are most in need.
Always in My Heart Donors
Always in My Heart tributes are displayed with most recent tributes at the top.
Linda J
You are missed, Sweet Girl.
Jessica
You're forever in my heart, My Charlie Girl! We had 16.5 beautiful years together but it hardly seems long enough. Not a day goes by that you and your big, beautiful brown eyes and smiling face aren't missed. Rest well my Sweet Girl! Merry Christmas! Love, Mom
Jen
Not a day goes by that we don't remember how much love & happiness you gave us all. We call November 4th "Buffy Remembrance Day" and will continue to honor your memory & smile when thinking of you. Love forever xo
Rachel B
Daisy, Thank you for bringing so much joy and love into our lives. We love and miss you every day. Rachel, Anish, and Jasper
Dawn Wilkinson
My Girl was perfection in fur. She was a gold-medal snuggler and expert back-of-sofa cushion walking billygoat. She was my truest support during some of the most difficult life changes I had to make. You were "My Girl" from day One until the end - and still are.
Rest Sweet Girl, you earned it.
Karen and Vicki
Best. Boy. Ever. Gentle. Dignified. Patient. Sweet. Missed by many. Beloved by all.
Beth
Skye 2002-2022
My precious boy, I miss you so much. What an indescribable deep bond we shared.
You touched so many lives in your 20 years and gave me more than I could have ever imagined.
I love you forever.
Sadhana and Prabhakar
In memory of beloved Maya, who brought so much love and joy to her family for over 17 years.
Robert Mace
Our sweet girl Maggie crossed the bridge on June 3, 2022 after 16+ years of joy and happiness. My heart is broken and I can't wait to see her and hold her again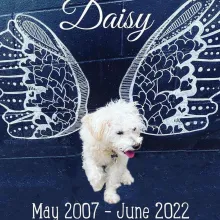 Rachel
Daisy was a dog who was abused up until she was adopted by my sister at the age of 7. The shelter said that was senior for her breed and to prepare to only have her for a year or two as she would most likely pass soon. She went on to live until the age of 15 and passed peacefully in the vet's office with everyone she loved right next to her. She may have bit everyone who tried to pet her but deep down she loved everyone she met! She is resting peacefully now knowing she had the most wonderful second half of her life she could have ever received. You will be missed sweet girl!
Results Paging Controls