This page is dedicated to the Grey Muzzle Always In My Heart campaign donors. During the year, our supporters celebrate the pets they have cherished by making a special "in memory of" donation to the Always In My Heart campaign.  A gift of $30 or more supports senior dogs nationwide who have become homeless when they are most in need.
Always in My Heart Donors
Always in My Heart tributes are displayed with most recent tributes at the top.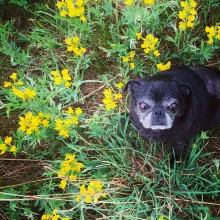 Channing
You will be forever in our hearts. We love you.
Jen, Nanny & Jess
Another year without you Buffy but we will never forget how happy you made us. Happy Birthday in Doggie heaven. Always in our hearts xo
Vicki and Karen
We know you and LilyBean are together once again and will share your days running, playing and snuggling while your memory lives on in the hearts of those who love you.
Theresa
Bo was a wonderful companion and he received only the best from his Mom. I love the story of the custom SUV seating that Teresa made for Bo so he could be high enough to look out the window and enjoy their car rides together. Bo will be missed but will live on through the stories about him that get retold.
Sarah
Adopted at age 7 from our local shelter, we were lucky to have you almost another 10 years. I still miss you buddy. You'll always be my best boy. Please keep an eye on Poppie for me.
Debra Hall
Adopted at 15 and we were able to love you for 4 years. You are the reason we only adopt seniors.
Ava Caridad & Nick D'Angelo
Born: Feb. 6, 2004
Adopted: March 8, 2014
Died: Aug. 7, 2018
Farewell to our sweet Juliet. The 4.5 years we had together were the best years of our lives and we hope the best of yours, too. How we miss your unconditional love, the constant laughs, your food mania and your sheer joy in being an incorrigible beagle.
Run free our brave, strong, beautiful girl. Mama and Daddy will love you till the day we die.
Lindsey Wisniewski
11 years was not enough. I miss you everyday my sweet boy.
Juston Poole
My loving friend of 15 years.
The Mandels
In loving memory of Sophia of Lake Terrace...always, our Sophie.
Results Paging Controls