Twitter
Facebook
Google Plus
Pinterest
Are You Ready to Rock?
Mark your calendars to join us June 3 -12, 2022, for Senior Dogs Rock!, an online national auction benefiting at-risk senior dogs. Grey Muzzle has granted over $3.1 million since 2008 to nonprofit animal welfare organizations across the country, which improved and saved the lives of over 3,000 senior dogs last year alone. Yet, so many more senior dogs and their families need our help. Together we can ensure more senior dogs get the critical care and support they deserve to survive and thrive because Senior Dogs Rock!
About the Auction
Grey Muzzle will be auctioning off a variety of unique items, fun activities, and exclusive experiences for people and dogs. This is your chance to not only get all the great items you want but to do it knowing you are helping support Grey Muzzle and at-risk senior dogs nationwide!
Be the SUPERFAN SENIOR DOGS need to take CENTER STAGE
We're seeking senior dog superfans to sponsor the online auction. Sponsorship levels with local and national exposure range from $500 to $5,000.  Levels and benefits include: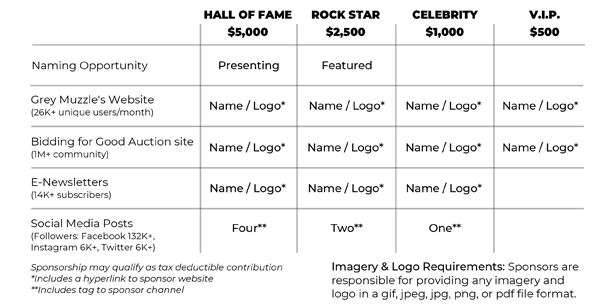 If you or your business are interested in being a sponsor for Senior Dogs Rock!, please download the sponsorship flyer and form. Pay online here.
Chart-Topping Items for the Auction Wanted
Whether you have 1 item or 100 to contribute, your participation is an invaluable part of our fundraising efforts. The more items we have, the more money we can raise, so we're asking for your help to ensure an excellent selection for our bidders and funds raised for senior dogs. We are looking for a variety of items to help make the auction a success and are particularly interested in items like:
    Gift cards/certificates to restaurants and retail shops
    Fun, outdoor experiences such as golf, fishing, sailing, and hiking
    Artistic items such as paintings, prints, needlework, and pottery
    Travel items such as overnight stays or getaways
    Items for dogs or items that feature images of dogs
    Boutique items such as home décor, handbags, and gifts for children
Individuals and businesses will be recognized with their item(s) on the bidding site. All donations are tax deductible.
Questions? E-mail auction chair Sharon Yateman.