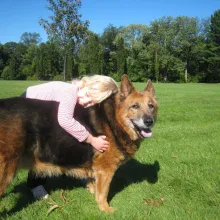 The Grey Muzzle Organization believes that old dogs contribute positively to our quality of life and have much to teach us about patience, respect, responsibility, loyalty and unconditional love.  As the popularity of senior dogs spreads, we see more and more seniors considered by families, including those with children.  Whether a child has spent their entire childhood growing up with a dog or the senior is a recent addition to the family, nothing is more heartwarming than the bond between a child and his or her dog.  

The Grey Muzzle Organization is collecting photos of children (of any age) and their senior dogs.  During the month of November we will feature these photos to share the special attachment between children and senior dogs with the public.  A picture is worth a thousand words, and we believe that these photos will open many minds to the joys of welcoming a senior dog into families of all shapes and sizes.  

Please send photos to Grey Muzzle Education & Outreach Chair Maria Stoerrle.  Please include the dog's name, the child's name (only first name will be printed), parent's contact information, and a few sentences about the dog and the child's special bond and background.  By sending the photo, you give permission for the photo to be published on The Grey Muzzle Organization's website, Facebook page, and other promotional materials.  All photos and information must be received by October 21st, 2013.