Every senior dog deserves health and happiness in their golden years. Because of your generosity, senior dogs like Peanut have the best gift of all: hope for the holidays.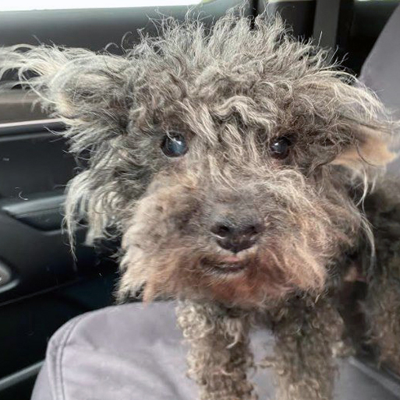 Peanut was surrendered to a vet's office for euthanasia because "he was old." At 14 years of age, he was definitely an elder gentleman, even by smaller poodle standards. But there was still a spark! Thankfully, a foster parent for Carolina Poodle Rescue stepped up to help. Peanut was in terrible shape after years of neglect. His fur was so severely matted that you could barely see the outline of his little body. He was quiet – almost defeated – during the car ride home from the vet, and yet, in his cloudy, aged eyes, there was hope.
Thanks to Grey Muzzle funding that YOU made possible, help was on the way! Peanut spent hours on the grooming table as caring hands worked to find the sweet boy hidden underneath all the mats. His hair was even matted into his teeth. Throughout all the work to loosen the mats and relieve the painful pulling on his skin, Peanut was patient. He didn't snap. He didn't growl. He stood quietly. Despite his pain, he still understood that those gentle hands were there to help.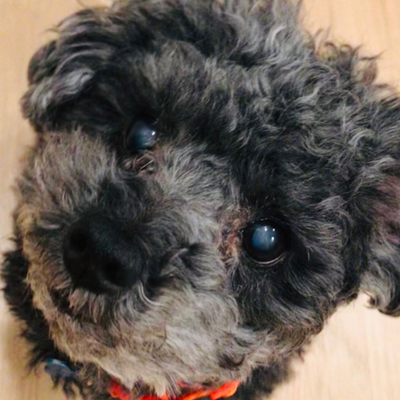 Senior dogs are counting on you for their second chance!
Once he received long-overdue TLC, grooming, and a dental cleaning with one diseased tooth extracted, Peanut began to fly! Within just three weeks, Peanut was a happy boy who loved to trot in the sun and happily greet everyone with a wag of his little tail. It was time to find Peanut his own forever home. The hope was that a special family would look past Peanut's double-digit age and see into his heart.
The response was incredible! More than 30 families expressed interest in adopting Peanut, each recognizing the love this beautiful boy had to share and touched by his transformation. Yet one stood out.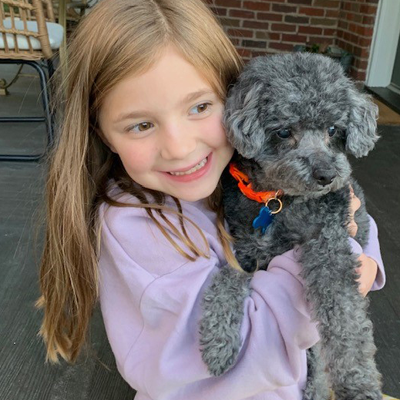 It was a match made in heaven. Peanut's adopters had a young daughter and wanted to teach her the joys that a senior dog could bring to life. It's easy to help a child fall in love with a fluffy puppy. Teaching a child to find beauty in a senior dog with cloudy eyes and creaky joints is another story, but their bond was instant! Peanut now has a girl of his own to snuggle with at night, a yard to prance in during the day, and a family that loves every ounce of his little 8-pound senior self.
Peanut's new mom, Emily, said, "Peanut was meant to be a part of our family. In the end, it wasn't about age; it was about love. We love this dog more than anything and remain grateful every day. I say to Peanut regularly, 'You think you're lucky? Nope, we're the lucky ones.'"
Your gift will be MATCHED to give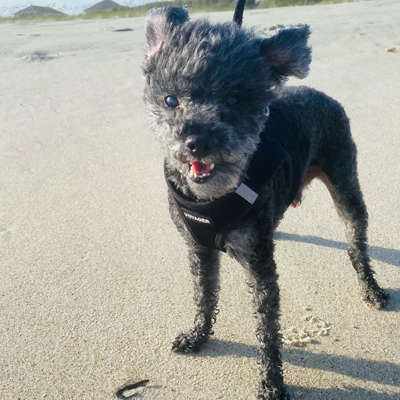 twice as many hopeful futures!
We are so grateful that thanks to your support of Grey Muzzle, Peanut received the medical and dental care he needed to have hope again. His story reminds us all that age is a number, time is a gift, and life is best lived with an open, hopeful heart. The formerly worn-down senior is now a treasured family member living the very best, rest of his life.
Yet so many more senior dogs are still waiting for that spark of hope in their lives. This holiday season, as we enjoy the unconditional love and companionship of our own furry friends, please give generously to help less fortunate senior pups experience hope and happiness as part of a loving family.

P.S. Donate between now and December 31st and your gift will be MATCHED dollar for dollar up to $50,000 thanks to a few very supportive longtime Grey Muzzle donors. Give hope to twice as many senior dogs!