When it comes to supporting aging dogs, there are many factors to consider. These depend on each dog and their individual circumstances. In this webinar, Dr. Dawn Gleason shares her experience caring for aging dogs and suggests simple changes that can make a big difference in their quality of life.
Lifespan Changes
Dr. Gleason discusses the aging process, including changes you may see in your senior dog's vision, mobility, strength, endurance, and coordination. Because each dog is unique, the webinar addresses the importance of considering specific health-related issues, pain management, mental health, and cognitive well-being. Dr. Gleason emphasizes the importance of patience and offers tips to help create a plan to help your dog thrive during their senior years.
One helpful approach to understand lifespan changes in your dog is to think about how those changes manifest in older adults. A 60-pound dog that is 12 years old may be experiencing changes similar to your 76-year-old mother. She may be walking more slowly, but it's important for her to keep moving to maintain muscle tone and strength. Her bones may not be as strong, so she needs to exercise and eat a healthy diet. Her brain may be slowing a bit, so she socializes with friends and does brain games that keep her mind sharp. Strategies like these are equally important to helping your senior dog thrive in their golden years.
Helpful Tips for Caring for Older Dogs
Once we are aware of the lifespan changes our dogs are experiencing, we can take steps to make their life safer, healthier, and more enjoyable. Dr. Gleason offers tips on a wide range of topics, including maintaining mobility, managing vision problems, minimizing the effects of decreased coordination, addressing metabolic changes, and providing daily enrichment. Learn simple ways to improve your senior dog's quality of life like raising food bowls, using yoga mats on slippery floors, and playing fun games to improve your dog's mental health.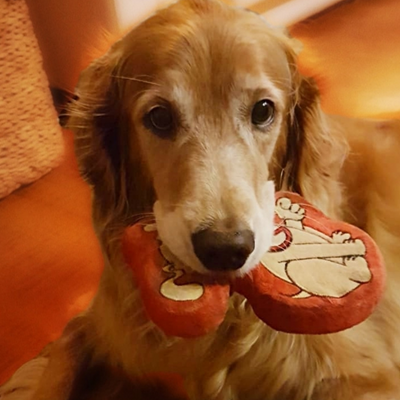 Participants' Testimonials
What participants are saying: "I have been caring for a senior dog for five years and attending Grey Muzzle webinars for three years. I have read many books by your speakers, but I STILL picked up some new information from Dr. Gleason! I always recommend owners with senior dogs investigate Grey Muzzle. You are a great resource. Thank you!"
"We just recently had to say goodbye to our 14-year-old dog. We had taken many of the steps that Dr. Gleason suggested to make her more comfortable and mobile, so it made me feel good that we had done the right thing for her. I found the suggestion of raising their food dish to be very interesting, and this was something I was not aware of."
About the Presenter: 
Dr. Dawn Gleason is a Veterinarian, Certified Veterinary Acupuncturist (CVA), Certified Veterinary Food Therapist (CVFT), and a Certified Rehabilitation Practitioner (CCRP). She is also the owner and operator of Life Quality Pet Care in Minden, NV. Life Quality Pet Care was built on the belief that quality pet care is a lifelong commitment between Dr. Gleason and her clients. Together their job is to make patients' lives better by increasing their mobility and strength while keeping them comfortable into old age.
Dr. Gleason provides veterinary services to dogs of all ages and sizes, specializing in canine rehabilitation and senior dog care. She utilizes an integrative approach combining western medicine with acupuncture, rehabilitative knowledge, lifestyle advice, Chinese herbal medicine, laser therapy, and massage.