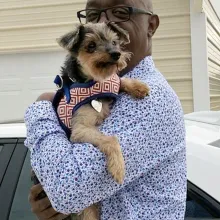 How we helped:
Medical grant
When you meet "the one," your heart just knows!
When 13-year-old Walter came into the care of Carolina Poodle Rescue (CPR), they said, "Our Grey Muzzle grant made it easy for us to quickly respond when one of our local shelters reached out about a senior Yorkie Terrier brought in as a stray. One of our volunteers hopped in the car and was on the way. The medical funds from Grey Muzzle allow CPR to [put] these senior babies into a haven, knowing we will be able to manage their medical needs."

Tiny, a little skinny, and tottering a bit, this sweet boy was in the right place to get the care he needed to thrive. After fending for himself as a stray, he was in need of a "trip to the spa" to freshen up. Once Walter was clean, dry, and warm following his bath, he cozied up in his foster home, knowing he was safe.
After seeing the vet, Walter got a much-needed dental with six painful teeth extracted. The need for dental procedures that go beyond a simple cleaning is common for seniors, and CPR's Grey Muzzle grant provides that funding for the extra TLC. (You made Walter's new pearly whites possible!)
With regular meals of nutritious food and lots of love in his foster home, Walter's personality blossomed! He was quite the social butterfly and loved meeting new people. So much so that Walter was one of the featured dogs at CPR's next adoption event. Strutting his stuff and making lots of new friends, Walter was a hit with his outgoing and sunny disposition.
At that event, Walter met and charmed his soon-to-be new Dad! Walter picked out his new best friend and quickly snuggled up into his arms, sealing the match. Walter is now living the good life with a Yorkie brother to play with and a grandpa who loves having a recliner buddy while Mom and Dad are at work. Stray no more, Walter is living his very best, happy furever after!