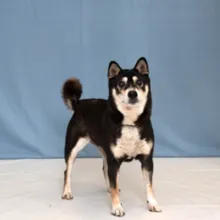 How we helped:
Dental Expense Grant
Sweet 13-year-old Sparky came to the Humane Society for Southwest Washington (HSSW) after her owners decided she needed a home that could give her more attention. This adorable Shiba Inu was well cared for, but, like many senior dogs, she had some serious tooth pain!
Dental care is so important especially as dogs age. Not only can dental disease cause discomfort, it can cause other serious problems as well. Additionally, one of the biggest expenses facing shelters and rescues is the high cost of dental care. In fact, lack of dental care is a major barrier to adoption. Grey Muzzle dental grants remove those obstacles. Thanks to a Grey Muzzle grant, HSSW was able to give Sparky the dental help she needed. 
After her teeth were clean and rotten ones removed, Sparky felt much better and was ready to find her forever home. And, it didn't take too long.