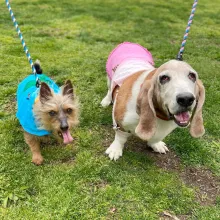 How we helped:
Medical Expense Grant
At first glance, Sophia and Rudy may seem an unlikely pair. However, they complement each other perfectly! Sophia, an 11-year-old basset hound, and Rudy, a 12-year-old Yorkshire terrier mix, were surrendered to an animal care facility in New York City when their owner needed to relocate. On top of their ages placing them at risk in an overcrowded shelter, both senior dogs had several medical issues, including severe dental disease, ear infections, and a cancerous growth that required immediate treatment.

Thanks to Grey Muzzle grant funding for medical care that you made possible, our friends at Little Shelter Animal Rescue & Adoption Center could rescue this sweet duo and immediately provide the care and surgeries they needed to thrive. Instead of facing an uncertain future, Sophia and Rudy got their second chance together!
After they both healed and recovered beautifully, Sophia and Rudy (dubbed the Queen and King of the shelter) waited for six months to find their new castle. Little Shelter was committed to keeping them as long as it took to find a loving home where they could stay together. That wonderful day finally arrived!

Thanks to you, this special bonded pair will live out their days with love by each other's side—getting the royal treatment they deserve.