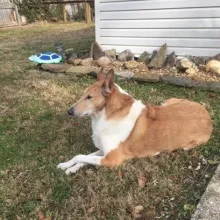 How we helped:
Dental Expense Grant
Ridge, a nine-year old collie mix, was found abandoned in an old house with other dogs. They were left with no food or water. Sadly, Ridge was picked on by the other dogs and had bite marks all over his body.
Once rescued by Almost Home Dog Rescue of Ohio, Ridge received all the care he needed and had gone without, including medical treatment for a severe ear infection, a dental cleaning with extractions, and--perhaps most importantly--love and kindness. Thanks to a Grey Muzzle grant, this adorable boy was feeling much better.
With everything he's been through, Ridge has been very affectionate with people and loves interacting with his foster doggie siblings. His foster mom describes him as a joy to have in her home.
Ridge's past might be dark, but his future is bright.