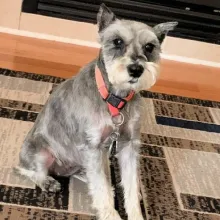 How we helped:
Medical Expense Grant
When she turned 14, Serenity's (Reni's) main man was deployed overseas. He asked family to care for her, and they did, until Covid-19 strained their financial resources. Looking for help, they found Top Dog Foundation. Top Dog Foundation has foster parents who have soft spots for dogs of deployed military members, and they took Reni into their home without a moment's hesitation. Top Dog asked Reni's prior person if he would like the foster family to keep her only until his return, but his deployment is for five years, so he declined, wanting to do what was best for her.
Although Reni is active and happy, a grant from Grey Muzzle helped Top Dog give her some needed medical attention. She had a complete veterinary exam, with full bloodwork to detect any concerns, and she was treated for a swollen foot, bladder infection, and given a dental cleaning.
During her stay with her foster family, Reni met a family friend. This gentleman had recently lost his 19-year-old dog. After some time getting to know Reni and thinking it over, the family friend happily chose to adopt this adorable girl. Almost best of all, when he travels in his role as a pilot, Reni's foster parents will care for her while he's gone.
Sweet Reni now has two families to love her and look after her for the rest of her days.