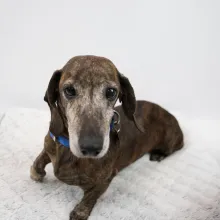 How we helped:
Dental Expense Grant
Sweet Paw Paw came to Mostly Mutts Animal Rescue and Adoption, Inc. in Georgia from a puppy mill bust. He had spent his whole life living in confinement and used as a breeding dog. Not surprisingly, this adorable, eight-year-old Dachshund had horrible teeth from years of neglect. When he arrived at Mostly Mutts, Paw Paw was immediately taken into the loving arms of volunteers and began to learn how to trust humans.
Thanks to a Grey Muzzle grant, Paw Paw was neutered, vaccinated and received a thorough dental exam and cleaning. His foster mom said he was one of the best dogs she has ever fostered. Once he realized he was safe and loved, he began to come out of his shell. Before long, he was seeking out laps to cuddle and nap on.
In mid-December Paw Paw was adopted! Now, he will spend the rest of his life with a loving family where he will only know love, warmth, comfort and a full belly!