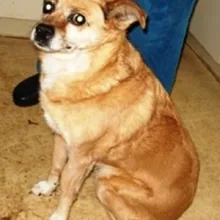 How we helped:
Medical expense grant for adoptable dogs
February 2009
This sweet lady is Missy, a senior dog about of about 9 years.  She ended up in the county animal control after her elderly owner died. St. Louis Senior Dog Project was told police broke down the front door to gain access and Missy ran out in a panic. Neighbors eventually caught her and turned her in to animal control where she sat sadly in a cage while officials there tried to locate any relatives. The closest one, a niece, lived in the Southwest. She signed Missy over, and that's when St. Louis Senior Dog Project got involved. They took Missy into their foster program and to their vet, and Grey Muzzle paid for her medical expenses. Unfortunately, she was heartworm positive. She was treated for the heartworms and is recovering in her foster home where she spends a lot of time resting on a people bed and sometimes on the dog bed in front of the fireplace. She'll be available for adoption in a few weeks. Her bloodwork is normal and the Senior Dog Project can see her gradually regaining energy and confidence.
March 2009
Missy has found her forever home! St. Louis Senior Dog Project reports that for the first 24 hours, she was pretty scared in her new home, but then she settled in and is now a happy girl, wagging her tail, giving kisses and bonding with the other dog. Security and love at last, Missy!