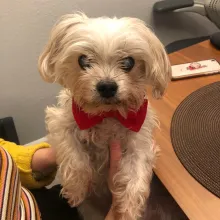 How we helped:
Medical Expense Grant
It has taken a village to save Levi!
He came to Austin Humane Society (AHS) from the Louisiana SPCA in partnership with the Houston SPCA during the crisis response to Hurricane Laura this past fall. This senior pup had obvious cataracts and loss of vision. He was also suspected to have diabetes. AHS knew they needed to help and take him in.
With support from their Grey Muzzle grant, Levi received diagnostic senior bloodwork to confirm his diagnosis of Type 1 Diabetes. They also assessed Levi's past insulin levels to ensure that he was placed on the correct dosage of insulin. After a few weeks with AHS, nine-year-old Levi was feeling better and it didn't take long for him to find his forever home!
Danise knew that Levi would need consistent medical care due to his diabetes and was excited to welcome a pup into her family who needed a little bit of extra love. Danise says, "Levi has been a wonderful companion during this crazy pandemic. Levi and I go on walks every day and it is the highlight of our day. He melts like butter in my lap when I brush him."