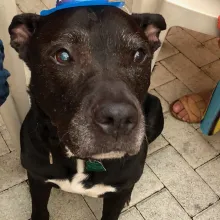 How we helped:
Innovative Senior Dog Program Grant
Brewster was seen being dumped on a corner in South Florida. A Good Samaritan followed him to a parking lot and was then able to scoop him up and bring him to Broward County Animal Care as a stray.
Lucky for Brewster, Broward County Animal Care has a partnership with our grantee The Pet Project for Pets. The Pet Project received a Grey Muzzle grant to encourage and provide for more adoptions of mature dogs like Brewster through the Senior Paws program. The shelter showcases older dogs who are eligible for adoption through Senior Paws and their adoption fees, food, supplies, immunizations and needed veterinary care are provided by The Pet Project for the rest of their lives. 
Not too long after Brewster arrived, an older woman named Maria came to the shelter looking for a companion that would help her feel safe and keep her company, since she lost her husband a year before. She fell in love with Brewster when she saw him and was so happy to know that she could provide for him properly with the help of The Pet Project for Pets. 
We're so thrilled that after Brewster's rough start, he ended up happy and safe in a loving home.