The Grey Muzzle Organization's 8th annual Summer Smile Campaign is underway, and we need your help to make this the best year yet! Our goal is to raise $25,000 for our dental fund so even more old dogs get to experience new smiles and brighter tomorrows. Your gift will be MATCHED!
One of the biggest expenses facing shelters and rescues that care for senior dogs is the high cost of dental care. In fact, lack of dental care is a major barrier to adoption, and the inability to provide necessary dental care is a common reason for owners to surrender their dog. Grey Muzzle's dental fund – made possible by your generous support – is working to change that.
Every dollar raised through our Summer Smile Campaign funds life-changing dental care for at-risk old dogs. You can help senior dogs not only to feel better but also to find – or stay in – a loving home. PLUS, thanks to the generosity of the Cook Family, your donation will be matched, dollar for dollar. That means your gift has twice the smile power--turning $25,000 into $50,000--to help senior dogs in desperate need of dental care!

About the 2024 Calendar Contest
Show off your grey muzzle's smile for a cause! When you support the Summer Smile Campaign, you can enter your senior dog's smile in our 2024 calendar contest. Simply make a tax-deductible donation to our Summer Smile campaign, and then upload your favorite picture of your super senior pup on our campaign's GivingGrid platform. At the end of the campaign, our Advisory Board members will choose their favorite photos to be featured in our 2024 Grey Muzzle calendar. A collage of the entire GivingGrid—including all of the pictures submitted—will be featured in December!
New Beginnings to Smile About
All funds raised through the Summer Smile campaign help at-risk senior dogs like Potato. At eight years old, she came into the care of the Humane Society of West Michigan after she was found as a stray. Potato's teeth had been sorely neglected her entire life, but you made her desperately-needed dental care possible!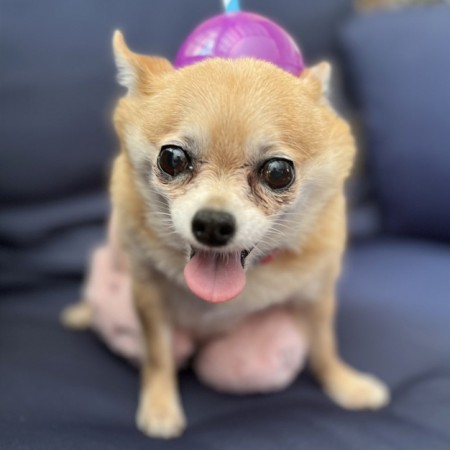 Potato's foster (now forever!) family shared her story:
"When we first brought Potato home as a foster, her breath was vile and rotten-smelling. Her teeth looked like grey lumps, so I knew she didn't feel good at all. After her dental cleaning (she had 13 teeth removed), Potato is brighter and no longer in pain! 
"Potato now has a toothless boyfriend, Gummy, who we rescued at the age of 13 years old. He was in the same situation as Potato and had many teeth extracted as well. Now he's doing great and has a cute, younger lady in his life! Toothless senior love. Isn't that what we all want? Thanks again to The Grey Muzzle Organization!"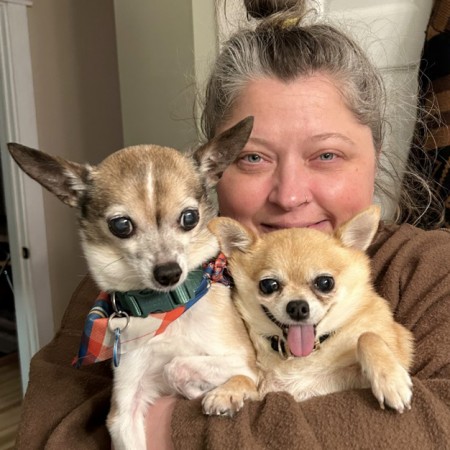 A dental grant from Grey Muzzle also allowed the Humane Society of West Michigan to purchase new equipment that makes lengthy dental procedures safer. This upgrade will improve dental care for senior dogs for years to come, and your generosity made it possible!
Please consider making a gift today to give hundreds more at-risk older dogs life-changing new smiles!