By Grey Muzzle Education & Outreach Chair, Maria Stoerrle

Imagine a senior dog in a shelter. At the time in life when they are most in need of love, care, and comfort, they instead find themselves living in a kennel. While many organizations try their best, resources are often limited and kennels are a difficult place for a senior dog to live. 

The Grey Muzzle Organization maintains a Bed Fund to provide orthopedic beds and cots to old dogs who are living in shelters, rescues, or sanctuaries. Providing that simple comfort makes an enormous difference; keeping the dogs off the cold, concrete floors helps ease their pain and feeling better allows them to cope better with shelter stresses, and they are more adoptable.  

This summer, Grey Muzzle provided $6,000 worth of beds to 33 different organizations across the country. Each shelter received two beds, helping a total of 66 dogs to start! In addition to being comfortable, the beds are completely washable and reusable; Grey Muzzle simply asks that the beds are used specifically for the senior dogs that need them.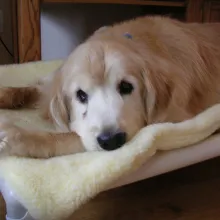 One organization that received two new beds is the Golden Retriever Rescue of the Rockies. Deb Kneale, the Interim Director/Treasurer, sent us a great picture of a senior golden named Sampson snuggled up on his bed while in the care of their rescue. 
Two other bed recipients are a nine-year-old Boxer, Beth, and a nine-year-old Shiba Inu mix, Izzy, who are being cared for by Great Plains SPCA in Kansas. Beth and Izzy were very happy to find brand new comfortable beds waiting for them in their kennels and settled right in.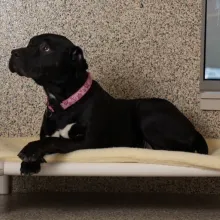 Grey Muzzle's generous donors make the Bed Fund and its success stories possible. The support allows Grey Muzzle to make sure that dogs like Sampson, Beth, Izzy, and hundreds of other senior dogs remain comfortable while waiting for their forever families to find them. 
Find out more information about the Bed Fund
.