Editor's Note: This is a guest post on the Grey Matters Blog and not written by anyone affiliated with Grey Muzzle. We allow guest contributors from time to time in order to provide our supporters with a wide range of topics pertaining to senior dogs.
As dog owners, most of us think our dogs deserve top billing. They're stars in our eyes and hearts. But what does it take for others to see them as we do? Uplifting antics or a heartwarming tale? In senior beagle Wolfgang's case, it took an extreme makeover -- losing nearly three-quarters of his body weight. PEOPLE magazine took notice of Wolfgang's journey from obesity to 5K ready, and so did we! Phoenix couple Erin McManis and Chad Schatz are passionate about helping dogs live their best, healthiest lives. In this blog, Erin shares the remarkable story of how they helped Wolfgang, and other dogs in need of major weight loss, reach their goals and become happier, healthier companions.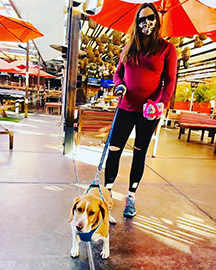 Keeping Senior Dogs in Shape
I firmly believe that one of the most important things a pet owner can do to help his or her senior dog enjoy a high quality of life is maintaining the dog at a healthy weight. This belief is not a professional one, as I am not a veterinarian, nor do I have any professional veterinary experience; in fact, I am a partner at a law firm.
My belief is based on years of experience rescuing and fostering obese dogs and rehabilitating those dogs to a healthy weight. Several of these obese or overweight dogs were already seniors when they came into our home. Given the natural toll on a senior dog's body, I believe that maintaining your senior dog at an ideal weight can drastically increase the quality of your dog's life.
Overweight Dogs My Family has Fostered or Adopted
Over approximately the past twelve years, my husband and I have either fostered or adopted seven dogs that were either morbidly obese or grossly overweight.
Four of those dogs were at least 7 years old when they came into our care.
Of those seven dogs, four of the dogs needed to lose more than half of their starting weight, and two of the dogs needed to lose more than two-thirds of their starting weight. (1)
Meet Wolfgang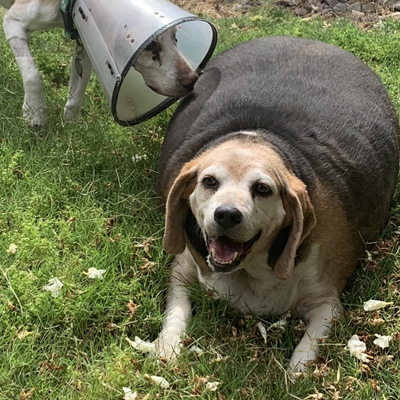 Our current dog Wolfgang (that we initially fostered and then subsequently adopted in 2019 when he was approximately 8 years old) is a 15-inch-tall beagle that initially weighed 90 pounds, and he currently weighs 27 pounds. Wolfgang came to live with us in May, 2019.
When Wolfgang initially came to us, he could only walk a few feet, and his first walk was to our mailbox. In fact, Wolfgang couldn't fit through our size large dog door. It was obvious that he wanted to play with our other dogs, but the most that he could do was sit on a dog bed and wag his tail. However, Wolfgang seemed eager to get healthy, perking up whenever the leash came out. 
Steps to Get Wolfgang Healthy
We took Wolfgang to a veterinarian to make sure he had no other underlying health conditions.
We obtained a calorie count from the veterinarian and made sure that we did not deviate from this calorie count.
We use a diet that works best for our dogs comprised of 100% human grade food. I cooked for our dogs for many years, and we currently use food from Just Food For Dogs. (2)
We started exercising Wolfgang.We went for a walk with him almost every day. We live in Phoenix, where it is obviously very hot in the summer, so many of these walks took place way before the sun came up. We started walking to the mailbox, and increased the walks by a few feet each day.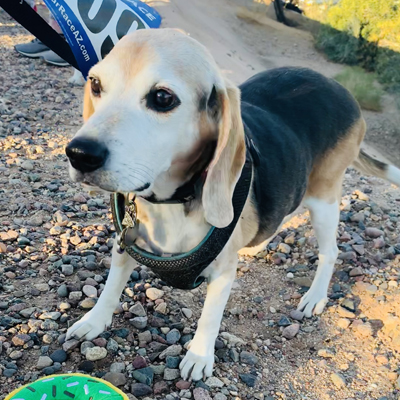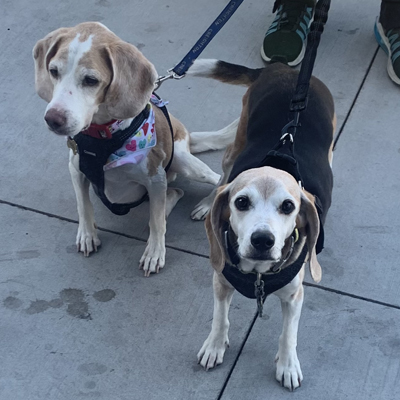 Wolfgang's Progress Today
Currently weighs 27 pounds (as of March, 2022). He is at his goal weight!
Goes on regular one-mile walks, and does the occasional 5k.
Can basically do anything that a typical beagle can do. Fortunately, there were no long-term medical impacts of his obesity.
Wolfgang's crowning achievement was fitting through the dog door!
Wolfgang Was Not the Heaviest Beagle that We Have Helped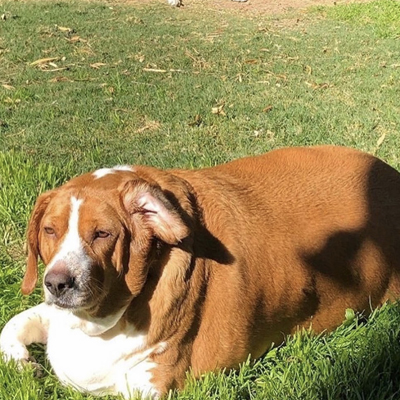 Unfortunately, Wolfgang is not even the heaviest beagle that we have fostered. In 2020, we fostered a 100-pound beagle named Jameson, who eventually went to his forever family weighing about 40 pounds. Jameson has since lost even more weight in his new home.
Sadly, Jameson did have serious medical issues attributed to his obesity. He had two torn knees, which required surgery to repair. When Jameson came to live with us, he could not even walk outside to relieve himself. His collar was so tight his neck was raw, and his paws were badly infected. We know from Jameson's prior veterinary records, that he ate cheeseburgers and ice cream almost daily.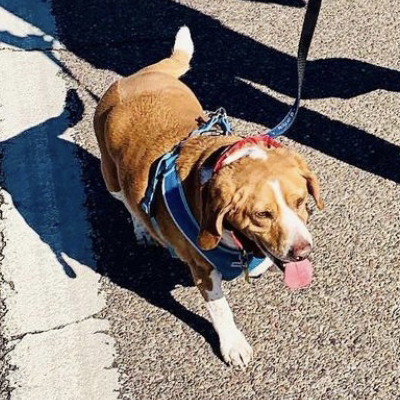 One might assume that a dog this large would not be a picky eater. However, Jameson was so used to eating unhealthy highly processed food that eating healthy, human-grade food did not appeal to him. For weeks, my husband and I would sit on the floor with him and encourage him to eat.
The veterinarian advised that there are no limits to what he can physically do after his knees were repaired. There was certainly an athlete inside Jameson, and once his knees were fixed he almost immediately went from not being able to walk, to signing up for 5k races.
Obesity Stats
Regrettably, obesity in dogs is prevalent, and while we work with some dogs that have a lot of weight to lose, many dogs may just need to lose a few pounds to be at a healthy weight. I firmly believe, based on my own experience, that losing that extra five to ten pounds will drastically impact the quality of a senior dog's life.
According to the Association for Pet Obesity Prevention, approximately 56% of dogs in the United States are classified as overweight or obese (of that 56%, approximately 19% of the dogs are classified as obese). (3)
In most cases, if a dog needs to lose ten pounds, that is a drastically higher percentage of weight than if a person needed to lose ten pounds to be as a healthy weight. For example, let's assume a veterinarian said that a 45-pound dog needed to lose ten pounds to be at an ideal weight of 35 pounds. That dog would need to lose approximately 22% of its current weight to be at the recommended weight. Conversely, if a 200-pound individual needed to lose ten pounds to be at an ideal weight, that person would need to lose 5% of his/her starting weight. A small amount of weight loss can make a big impact on a dog.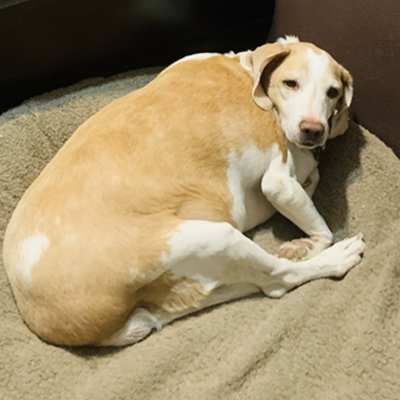 Impacts of Pet Obesity
While some of the impacts of pet obesity are probably obvious, obese dogs can also develop an increased risk of:
Cancer
Diabetes
Heart disease
Hypertension
Obese dogs are also at risk to develop osteoarthritis and a faster degeneration of the joints. (4)
In fact, when Wolfgang came to live with us, it was already summer in Phoenix, and our veterinarian said that Wolfgang's weight put him at might higher increased risk of heat stroke. So, that first summer, we had to closely monitor him whenever he was outside.
Tips for Weight Loss/Sticking to a Calorie Count
I always tell people, that in my opinion, the single most important thing that we have learned to help dogs lose weight (no matter what food you use) is to obtain a calorie count from your veterinarian that he or she deems appropriate for your dog to reach an optimal weight, and stick to that calorie count.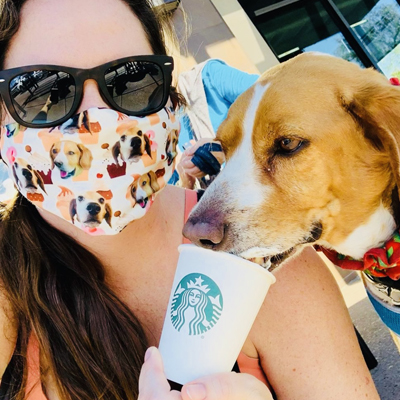 I recommend always speaking with your veterinarian before starting any new diet. In my experience, if the calorie count for the dog food is not on the bag, it is often available online. The hard part then comes with sticking to that calorie count. Some helpful tips that I have learned through the years to help stick to that calorie count includes:
Make sure the entire family is on board with helping your dog lose weight.
Make sure that you factor in treats into the calorie count.
When possible, find alternatives to traditional treats or break the treats apart. We have cut small pieces of carrots to give the dogs as treats, and for several dogs, that has proven to be effective. Additionally, many treats we use are "soft" treats. These are good for senior dogs that may have dental issues, and they can easily be broken into smaller pieces, so a dog just receives a portion of a treat.
Sometimes we have helped an overweight dog that always seems hungry. What has worked for us, is supplementing the food with canned green beans (although it is important to rinse the green beans to help remove excess sodium). Green beans are very low in calories but high in fiber, so they help keep the dog feeling full, plus the dog receives more to eat.
Many overweight dogs are accustomed to eating table scraps and will beg for food. It is hard to say no to a dog begging for food; however, in our experience, if you are consistent about not engaging with a begging dog, they will stop within a few weeks.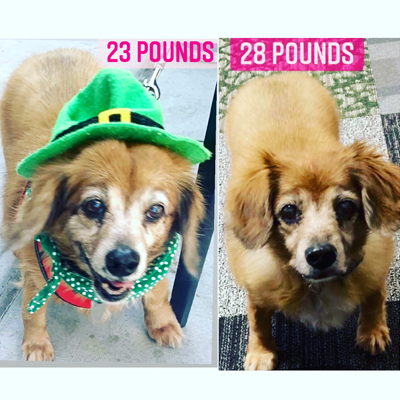 Making a Lasting Change
Usually, adopting a major lifestyle change (whether it be for yourself or for your dog), takes serious commitment. There will almost certainly also be setbacks; but every day is a chance to start over. I am a firm believer that when it comes to weight loss in dogs that small, but consistent steps, can lead to big results.
We all want what is best for our dogs, and maintaining your dog's weight at an ideal level is something that is almost always within the owner's control. Maintaining your dog at a healthy weight can drastically improve the overall health of your dog, especially as he or she ages. Whether your dog has three or 30 pounds to lose, your best friend is counting on you. (5)
_____________________
(1) The seventh overweight dog that we are currently fostering, is an obese dachshund mix that is being fostered through Forever Loved Pet Sanctuary, but at the time this article is being submitted she is at the start of her weight loss journey, as she has only been a foster with us for a few weeks so we do not know what her goal weight will be.
(2) When the company heard of my family's efforts to help rehabilitate obese dogs, the company began donating its food.
(5) We document our rescue dogs and foster dogs through our Instagram page which is @obese_beagle. When a dog comes to our home that has a weight issue we document that dog's process on Instagram. However, we only started the page in 2019, so some of our first dogs are not featured. The account is told through the voice of Wolfgang, the beagle we own that was initially 90 pounds. You can also read more about Wolfgang's story in this PEOPLE article Wolfgang the Obese Beagle Loses Half His Size and Finds His Forever Home
About the Contributor: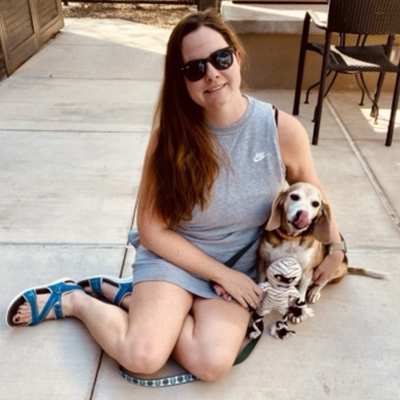 Erin McManis