"Take Me Home, Country Roads" was John Denver's heartfelt song about a place to belong. But was it original? Is it possible that he first heard these words sung by some mournful stray dog, one of many who are impounded every year? Perhaps this particular hound was on the euthanasia list, and was crying out for rescue.
 
Rick Thompson and Ken Siegert heard that cry and couldn't ignore it. In 2012 they founded Raising Aid for Dogs At Risk (RADAR), a small volunteer-based nonprofit that raises money for the most at-risk dogs in shelters today. RADAR's focus is primarily on the tucked away, country-road shelters that typically operate "below the radar" in Appalachia and the Southeast.

RADAR is structured like an easel, but instead of holding a picture stand, imagine an umbrella: three funds make up the tripod that supports the canopy of protection provided by RADAR to the most at-risk shelter dogs. If RADAR unfurls its umbrella over a shelter dog, that dog is not only benefiting from RADAR general funds but, in addition, can benefit from the Helping Hands for Hearts Fund if heartworm positive, the Black Dog Fund if a black dog and if a senior dog, the very special Chloe's SOS Fund (Saving Our Seniors).
Chloe's SOS Fund was named after a 10-year-old German Shepherd surrendered by her family to a rural shelter in Ohio in November of 2010. In mid-December, just after saying a final goodbye to one of their senior dogs, Rick and Ken saw a posting about Chloe, and couldn't resist. They adopted Chloe just in time to give her a forever home for holidays! Then in December of 2012, Chloe had a severe seizure and was diagnosed with a malignant brain tumor, and once more Rick and Ken had to bid a final farewell to a senior dog. But Chloe's legacy lives on. Adopting Chloe led Rick and Ken to form RADAR to help other at-risk dogs have a better opportunity to find a forever home. As a tribute to her, Chloe's SOS Fund was established to specifically assist senior dogs in rural shelters.
 
Financial assistance from one or more of RADAR's funds, together with the participation of a rescue group, saves the lives of dogs who otherwise would most likely be put to sleep in rural shelters: older dogs, black dogs, special-needs dogs and medical-needs dogs, regardless of breed. When it comes to allocating RADAR's assistance, senior dogs are the top priority. The ability for rescues, volunteer regional liaisons and shelter staff to tap into a source of funding for dogs least likely to be adopted makes RADAR "the Medicare of the underdog!"
 
So, what were Rick and Ken thinking when they decided to go out and find the most unlikely dogs to rescue? Nothing less than devoting their time and talent to a mission that they summarize as "no dog left behind."
Remote, rural shelters are generally located where the words "dense" and "population" are not used in the same sentence. RADAR limits its assistance to counties with a population density of less than 250 people per square mile. One West Virginia shelter assisted by RADAR has only nine people per square mile! Compared to their urban counterparts, rural shelters are small, poor, overcrowded and understaffed; noisy and dimly lit; hotter in the summer and colder in the winter; and lacking adequate resources to exercise and socialize the dogs, conduct humane education, or promote spay/neuter programs. Claire's story is one of many that can be found on RADAR's website. It tells of several Beagles surrendered one day to a shelter in North Carolina by the same owner, who was a hunter. Chances are, these dogs no longer met the owner's standards for hunting. An urban shelter could absorb several dogs without having to euthanize in order to make space. Not so in a remote heartbreak hotel.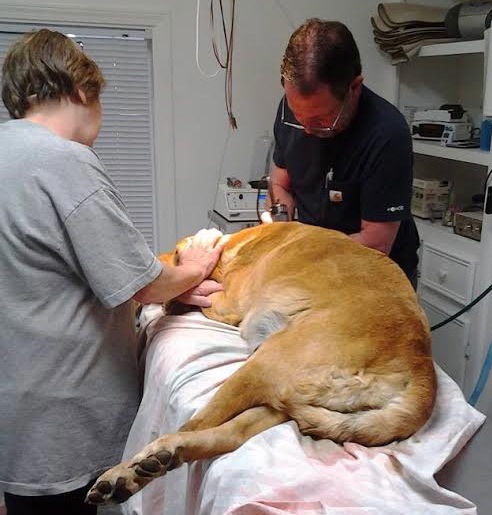 Remote rural counties not only suffer from a lack of industry and jobs, but also from a lack of social services. It is not unusual for someone to surrender their senior dog because they can't afford the pet food or the medical expenses. Nina, the 500th dog to be assisted by RADAR, has a very poignant story. She was found outside a South Carolina shelter by staff coming to work. She was a 9-year-old Labrador Retriever mix, and was dumped when she was pregnant and in labor.

The stress on shelter staff is significant: no room to put ever more dogs; having to euthanize dogs to make room for new dogs; performing triage on sick animals when space is limited; having to make hard choices about evening and weekend heating and lighting with a small budget; no veterinarian or vet tech on the staff; no evening or weekend staff; no time to network adoptable animals; no available homes in the surrounding communities; inadequate transport vehicles; little or no support from local government; an Animal Control Officer often doing double duty, responsible also for managing the shelter; counties lacking even a shelter or inside kenneling. Truly, in order to stay alive after being impounded, a dog had better be young, healthy, small and cute; or be a purebred in good shape.
Even a young and healthy dog would be stressed in a rural shelter. A dog could spend the entire weekend, from Friday evening to Monday morning, entirely alone in the cold and the dark. Someone will put down food and water, but the outside run will not be cleaned. Five minutes of human contact in 24 hours, day after day, is devastating to a pack animal. A senior dog is affected by loneliness and noise even more than a younger dog because the will to survive is weaker. A senior dog may already be weary from joint pain and other health issues. Senior dogs often curl up and withdraw. When someone comes to the shelter to look for a dog to adopt, a shaking senior dog in a corner of a run will be passed over. And, if it is a black senior dog, it won't even be seen because a dark lump in a dark corner is not eye-catching.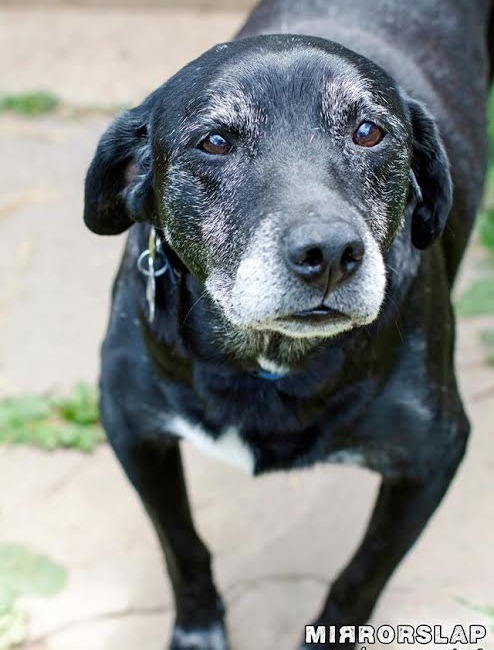 Getting out of rural shelters alive is a high-stakes game that usually only the bold and the beautiful dogs win. But with RADAR's help, hundreds of formerly at-risk dogs now have wonderful success stories to share! One of those dogs is Billy, a senior black Lab mix from Augusta County in Virginia, was rescued by a hair. He was a huddled dark shivering dog in the back of his run. The rescue that came to pull a year-old dog had not known about Billy, and, after walking through the shelter looking at every run, still had not seen Billy. When the shelter manager appealed for help, the rescuer said "There's no black Lab in there!" Oh yes there was, and you can read Billy's heartwarming story here.
 
A good example of how RADAR saves senior dogs is Rocky's story. Rocky had never known the warmth of a kitchen floor by the stove or the pleasure of curling up at his master's feet. While he got nothing from his owner other than food and confinement, Rocky came to the shelter in South Carolina with a big piece of baggage: he was heartworm positive, he was black, and he was a senior. Out came the RADAR umbrella and all three funds (Chloe's SOS Fund, Black Dog Fund and Helping Hands for Hearts Fund) were engaged. In an effort to save Rocky, RADAR provided an assistance offer to cover his heartworm treatment costs as an incentive for a rescue to take him. With his time just about up, a rescue pulled Rocky!
In less than three years of operation, RADAR has provided over $29,000 in assistance to senior dogs. With Rick and Ken covering all operating costs, 100% of all donations received literally goes to the dogs!

Visit RADAR's website and Facebook page and Chloe's SOS Fund (Saving Our Seniors) web page to see more stories and examples of how two guys on a mission help get at-risk dogs out of rural shelter and into rescues so that they can go on to loving forever homes.
The Grey Muzzle Organization
improves the lives of at-risk senior dogs by providing funding and resources to animal shelters, rescue organizations, sanctuaries, and other nonprofit groups nationwide.
About the Contributor
:
Dorothy Terry is a city girl transplanted to the mountains of Virginia. She is a retired nurse who is now devoted to spoiling senior dogs. Dot is a founding member of the Highland County Humane Society in Virginia. In addition to writing for RADAR, she also volunteers with the Pendleton Animal Welfare Shelter (PAWS) and Advocates for Shelter Animals of Pocahontas County (ASAP) in West Virginia, and the Lost Fantasy Rescue in Virginia. Dot frequently opens her heart and home to fostering dogs.