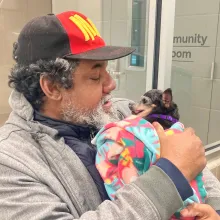 How we helped:
Keeping pets in homes grant
Can't you just feel the love between these two? When Maruka wasn't feeling well, her dad Noel went above and beyond to find help fast.
Recently, when Noel tried to give Maruka her heart medication, she cried out in pain any time he touched her mouth. He knew something was very wrong and reached out to MSPCA-Angell's community outreach coordinator for assistance in getting Maruka an urgently-needed dental. The Boston Community Clinic had a waitlist of over six months for dental surgery, which was far too long for Maruka to be in pain. Thankfully, MSPCA could get Maruka an appointment right away at the Cape Cod Community Clinic instead.
Noel took the day off work to bring his sweet girl to the clinic, taking the train and two buses back and forth for an over 4-hour trip to get Maruka the care she needed. Maruka (who is now happily toothless!) is doing well and eating up a storm, as well as graciously accepting her heart medications.
The Grey Muzzle Organization is so grateful to provide grant funding (thanks to your generosity!) to help the MSPCA provide low-cost urgent outpatient veterinary care to senior dogs in Massachusetts. Thanks to this subsidized, urgent veterinary care, families facing a medical crisis get the care they need to save their beloved, four-legged family members. 
Noel and Maruka truly exude the love and companionship found in two best friends sharing this life together. Thank you for helping them stay by each other's side where they belong!