Twitter
Facebook
Google Plus
Pinterest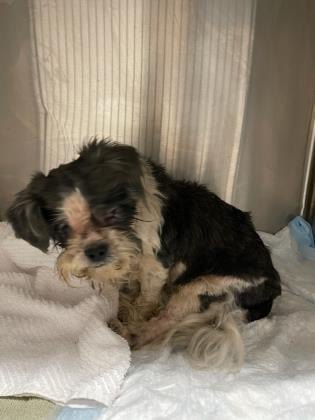 Surrendered by his owners for euthanasia, an unnamed blind shih tzu was transported to Carolina Poodle Rescue from a rural shelter. 'Louie," as he was appropriately dubbed by his transporter, swayed to the sound of music played during his freedom ride.
Their first stop was to the groomer to deal with Louie's extensive matting. He was sweet and calm as he was bathed, shaved, and groomed – pure relief.
Next was to the vet, where it was determined that Louie wasn't just blind – he was born without eyes. Due to severe neglect, his matted hair and dirt had hidden this from the rescue team. While there was nothing that could be done to restore Louie's vision, CPR staff say that "he sees the world through his own beautiful lens."
A grant from Grey Muzzle, made possible by your generosity, enabled CPR to treat Louie's eye issues, address his dental issues with multiple surgeries, and cut his long curled nails while under sedation so he could walk without pain.
After three months of medical care and recovery in a loving foster home, Louie was ready to find his forever family. His bio and photos received an overwhelming response on CPR's website with many kind people applying to adopt him. Louie picked the perfect mom who was home during the day and had another dog to be Louie's snuggle buddy. What a wonderful world it is!