How we helped:
Medical expense grant for hospice/long term care
In 2012 Leo and Maria were rescued by Blind Dog Rescue Alliance (BDRA) from an animal hospice in New York that was closing. Leo was estimated to be about 16 years old, and Maria was approximately 15. Leo, a blind and deaf terrier mix, and Maria, a blind and almost deaf Chihuahua, were not separated and lived the rest of their lives together in a loving foster home. 

Both Leo and Maria had moderately severe heart murmurs. Leo was incontinent, had only three teeth and was battling a chronic urinary tract infection as well as a severe ear infection. Maria also had dental issues, and was very arthritic with her knees popping out continually. The pair required many vet visits and both were on a daily routine. 


After several months, Leo's and Maria's health improved and they were much more comfortable. A grant from The Grey Muzzle Organization helped cover their medical and long-term care expenses.

BDRA had intended to give Leo and Maria TLC and a warm bed for a few months but no one was prepared for what life had in store for them, and the fighting spirit they had left! Leo was such a fun and curious dog who even had his very own Facebook page, now with more than 700 followers! He also found every crumb dropped on the floor and loved to chew on boxes and shoes.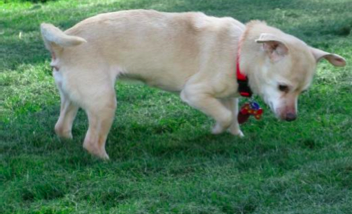 Maria adored nesting in blankets right out of the dryer. Because of the attention they received, both dogs not only lived out their days happily but provided so much joy to those around them. Sadly, we lost them much too soon. Maria passed in July 2013, and Leo crossed the bridge in October 2013. 



BDRA is very appreciative of Grey Muzzle's help. "We thank The Grey Muzzle Foundation from the bottom of our hearts for letting seniors like Leo and Maria come into rescue. It breaks our hearts to imagine what might have happened to them without your generous funding."