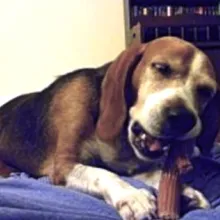 How we helped:
Medical expense grant for adoptable dogs
Surrendered by his first owner, handsome 12-year-old beagle Chance was rescued from a southern New Jersey shelter by Penny Angels Beagle Rescue (PABR). Chance was bewildered and confused by his strange surroundings, and unfortunately showed signs of aggression when people came near him. Nevertheless, PABR took a "chance" on him and believed in his potential to find happiness again in a new home. So Chance's journey began…
A PABR volunteer foster mom, Tiffanie, took him to the vet for a full examination, including X-rays and blood work. Chance cried out in pain when his back was touched. He was severely arthritic and experiencing a lot of sciatic pain. A grant from The Grey Muzzle Organization helped pay his medical expenses to lead Chance on a path of rediscovery. Once the vet prescribed anti-inflammatory drugs, pain medication and old-fashioned TLC, the beguiling beagle started feeling better and gradually exhibiting signs of playfulness once again. It became clear the previous lashing out and signs of aggression had been due to his pain, not behavioral issues. Tiffanie was thrilled to observe Chance growing stronger and happier every day, comparing him to a little old man who loves snuggling and enjoys classic rock music. Eventually, his story was posted on the PABR Facebook page and Chance was ready to meet new friends. At a beagle gathering at PetSmart, he had a grand time and actually socialized with some of the other dogs. "He looked FABULOUS!" Tiffanie reported.That same day, a nice man, who had adopted from PABR previously, asked to adopt Chance! It proved to be a pawfect match and Chance trotted away to his new forever home. Grey Muzzle is delighted to have helped provide this old boy the second chance he deserved!
Though Chance was bewildered and confused at the shelter, he still managed to come to the front of his cage to greet his foster mom and give her a tiny kiss.
Chance and his new dad, happy together!