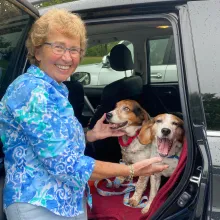 How we helped:
Medical grant
Check out these three adorable smiles! Senior bonded beagles Bert and Ernie were found wandering alone as strays. These best friends were clearly inseparable, and the staff at Harbor Humane in Michigan knew they needed to stay together. Thanks to a grant from The Grey Muzzle Organization that your support made possible, the veterinary team could get right to work evaluating Bert and Ernie's health, including senior bloodwork for each dog to check for any issues.
Findings revealed that the boys would be just fine as long as they found an adopter willing to go a touch above the usual level of care. Having the full picture of their medical status allowed Harbor Humane to give the best information possible to potential adopters in order to find them the perfect home.
As you can see, it was love at first sight for all involved! We're grateful that their new mom opened her heart to not just one but two seniors, ensuring Bert and Ernie spend their golden years growing older together.